In order to relay mails through MailChannels, your hMailServer Mail Transfer Agent (MTA) must authenticate with MailChannels using the credentials provided to you and add the authenticated sender header to track the sender reputation. This article provides instructions for setting up authentication.
Authentication to MailChannels Outbound Filtering requires configuring hMailServer using the provided username and password.
To setup authentication, navigate to Settings -> Protocols -> SMTP -> Delivery of e-mail -> SMTP Relayer
Configuration should be as follows
1) Remote host name: smtp.mailchannels.net
2) Remote TCP/IP Port : 25
3) Server Requires Authentication:The box should be checked
4) User name: MailChannels SMTP Username selected during the signup process
5) Password: MailChannels SMTP password created during the signup process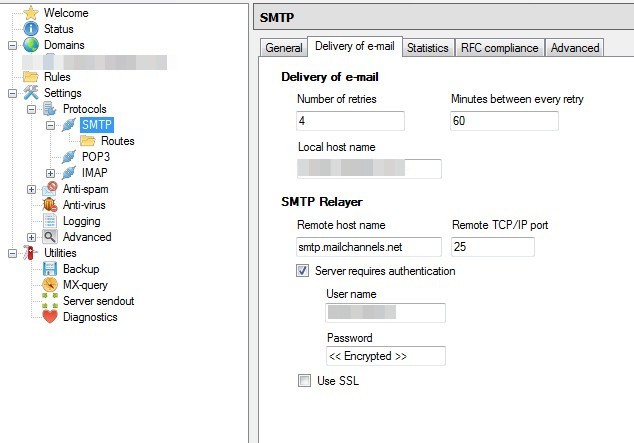 Adding X-AuthUser Header
MailChannels Outbound Filtering requires the authenticated sender header in order to track the sender reputation.
Locate hmailserver.ini file in the hmailserver installation folder. Edit the file and add the following
[Settings]
AddXAuthUserHeader=1