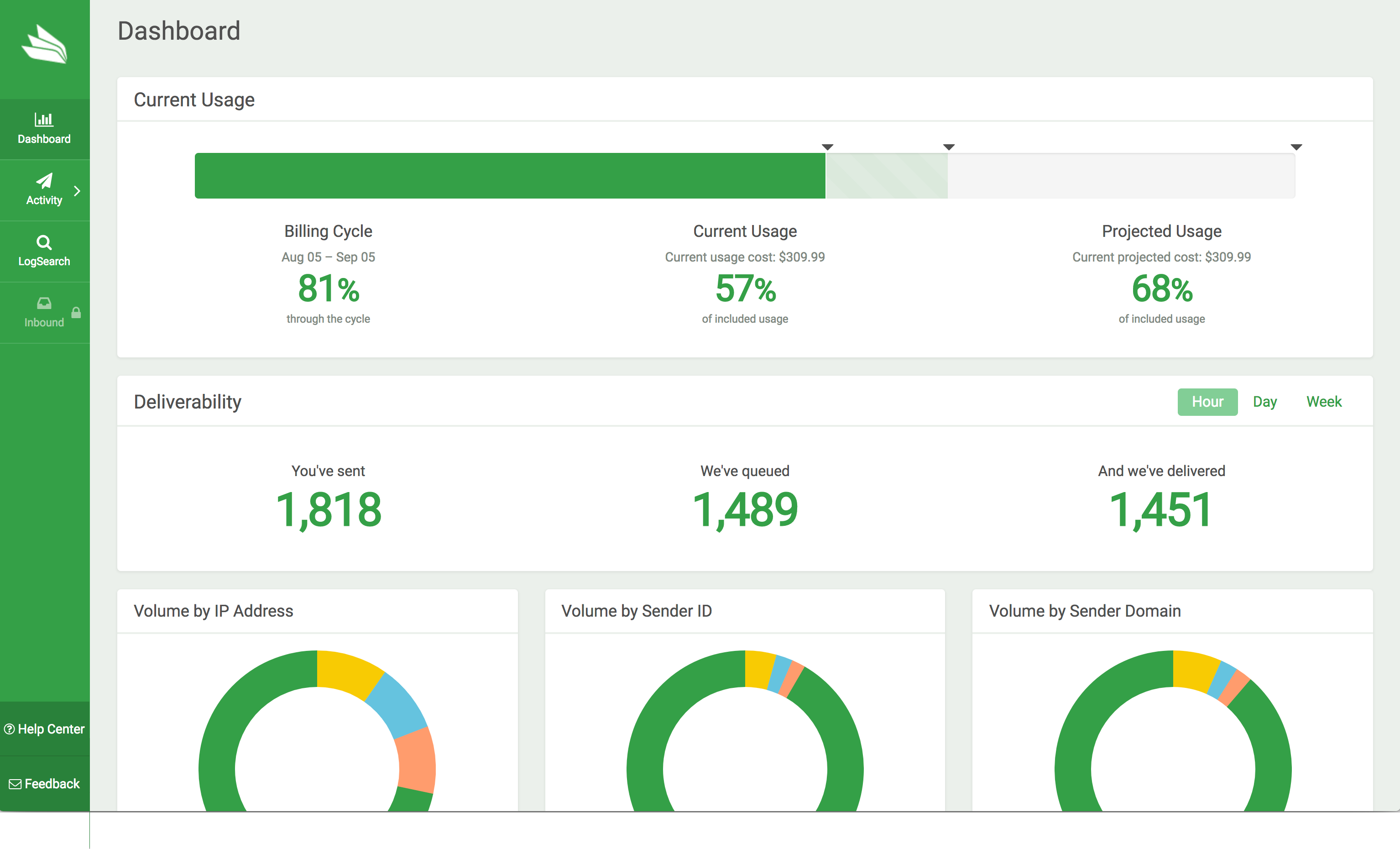 When you log in to MailChannels Host Console, you're presented with a Dashboard that gives you a summary of what's interesting about your data:
Current Usage
Deliverability
Volume by IP Address, Sender ID, and Sender Domain
To see your Dashboard, log in to your account.
Current Usage
You can keep track of your current email usage and how many days are left in your billing cycle so there are no surprises on your next billing statement.
The top row of cards:
The progress bar gives you a quick visual representation of how fast your monthly budget is being spent against the message limits of your subscription plan.

Dark green represents email consumption for the current billing period.
Light green represents the projected consumption.
The entire progress bar is 100% of your allotted emails per month.

Billing Cycle

Your billing cycle start and end dates.
Your progress into the billing period (in percentage).

Current Usage

The cost of your current usage.
Your progress of usage in your subscription (in percentage).

Projected Usage

The cost of your projected usage including overages.
Your progress of projected overages (in percentage).
Deliverability
The Deliverability card is second from the top of the Dashboard. Deliverability includes:
You've sent

The number of messages that you have attempted to send through MailChannels.

We've queued

The number of messages that MailChannels has accepted from your network or users.
Sometimes envelopes are not addressed well enough to be accepted, or we have that particular sender blocklisted due to previous abuse and they continue to queue up more spam. In this instance, we are already aware of the abuse and simply drop at connection attempt.

And we've delivered

The third column represents the number of delivery attempts made by our system to deliver messages from the second column.
In some instances, this number can be higher than the You've Sent column due to temp failures at the receiver where we must retry several times before they are able to accept the message.
The date range selector is at the top right of the Deliverability card.
To use a predefined date range, select one of the following from the pill menu:
Hour: Data available for the last 60 minutes.
Day: Data available for the current calendar date up until the time of your selection.
Week: Data for the previous 7 calendar days.